Many Taiwanese households are always prepared with a medical kit equipped with cold, gastrointestinal and painkiller drugs. Some of which were the unfinished portion from the previous use, while some of which were brought back from the last trip to Japan. However, the only reason the drugs were kept: it might be useful someday.
Most of the time, these drugs will never be used and be stored until they deteriorate or expire. Their final destination will be landfills, or into the rivers and oceans causing environmental pollution.
According to statistics from the Taiwan Ministry of Health and Welfare, Taiwan generates approximately 193 tons of drug waste each year. This drug waste not only increases the burden of the NHI (National Health Insurance), but also poses as a threat to the environment. Currently, Taiwan's efforts to educate its citizens on handling unused drugs through publicity by the government and pharmacists has seen low effectiveness. The excessively affordable NHI and easily accessible medical drugs has led to the continuous problem of drug wastage.
How should this problem be solved?
A new start-up social enterprise in Senegal in western Africa might be able to provide an answer. This virtual community pharmacy named JokkoSanté is trying to leverage on both the circular economy of drugs and online trading to prevent expensive drugs from going to waste in the medical kit.

The Founding of JokkoSanté
Senegal is located on the Western coast of Africa facing the Atlantic Ocean. The country has established, broke off, and reestablished diplomatic ties with Taiwan(ROC) many times. It eventually established diplomatic ties with the PRC in 2005, maintaining only economic and cultural exchanges with Taiwan.
The politico-economic environment in Senegal is relatively stable compared to other African countries. The country's telecommunications infrastructure is also relatively developed and Senegal has gradually developed into a financial center of French speaking countries in Western Africa since the 1980s. However, Senegal didn't establish a National Health Insurance system as Taiwan did, which means that Senegalese citizens have to rely on personal medical insurance to pay for their medical expenses.
However, according to a survey conducted by JokkoSanté, over half of the population in Senegal do not have medical insurance, resulting in more than 73% of the medical expenses in an ordinary household used for purchasing drugs. The expensive cost of drugs has led to people directly purchasing over the counter drugs, which in turn results in over piling of drugs, causing waste and even the risk of ingesting deteriorated drugs.
The founder of JokkoSanté, Adama Kane, started to think of a solution to this problem after seeing the stockpile of medical drugs in his house.
Adama Kane was originally a telecommunication and software engineer and worked in a local telecommunications company. He became an important pillar of the company throughout his 16 years of working. Despite a fruitful career, his family planning has not gone well.
Kane and his wife have been trying for 6 years to have a baby and only succeeded when he was 43. His wife has been through many miscarriages during this process. Hoping to alleviate his wife's suffering, Kane bought lots of dietary supplements and drugs. After the birth of his child, he suddenly realized that the drugs were piling up in his house.
How to deal with these excessive drugs? He originally planned to give them to his relatives, friends and neighbors, but this would only have solved the problem for the time being. In fact, these neighbors and friends might already have stored lots of drugs in their houses.
To find a fundamental resolution, Kane started to design a model of circular economy for drugs, which was the prototype of virtual community pharmacy, JokkoSanté.
The word JokkoSanté is a combination from two languages: jokkolanté and Santé. The word JokkoSanté comes from the Wolof language in Senegal, which means giving and acceptance; while Santé comes from French, the lingua franca in Senegal, which means healthy.
JokkoSanté is the combination of the two words, emphasizing the company's goal of becoming an avenue to health, allowing people with different needs to help each other. S was replaced by $ on the mark of JokkoSanté, but that doesn't mean money. The link in the middle resembles a walking cane, and Kane hopes JokkoSanté can be the healthy cane in the society to support everyone's needs.
So, how does this "virtual pharmacy" work in reality?
Redeeming Points, Online Trading, and Circular Economics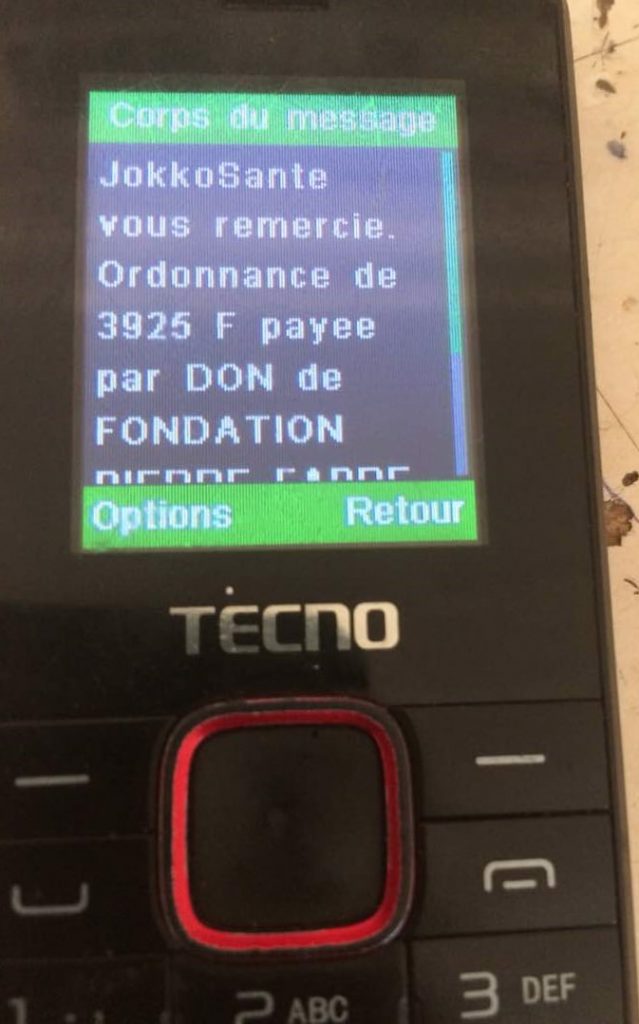 After it officially went online in 2017, users only have to download the JokkoSanté APP and register as a member, take their unused drugs to the registered pharmacies in collaboration with JokkoSanté to redeem for points. In future, you can redeem these points for drugs required.
The APP points in JokkoSanté are not only accumulated one-way, but can also be transferred and given for free to other users. If members have family members working abroad, they can also use their salary to purchase points and transfer them to the members' account.
The drugs provided by JokkoSanté, probably through redemption from other people, or through donations from foreign non-profit organization or enterprises.
In the past, these drugs were sent to Senegal from other faraway countries. The process of changing hands might not be transparent and open, which might lead to unscrupulous profits by middlemen, and deterioration of drugs due to the longtime of transportation.
JokkoSanté provided solutions for the above problems.
JokkoSanté will find suitable donees for the donated drugs by companies. Through the collaboration of JokkoSanté and the local Ministry of Health, they are able to find suitable matches according to different conditions such as gender and age.
When a patient from Senegal receives the drugs sent from JokkoSanté, he or she will receive a message at the same time to indicate the donor and the shipping process of the medicine.
Just like the meaning of the name JokkoSanté, this social enterprise sees itself as a walking cane that promotes health, to provide a match for kind donors and people in need, to further circulate health resources effectively and benefit more people in society.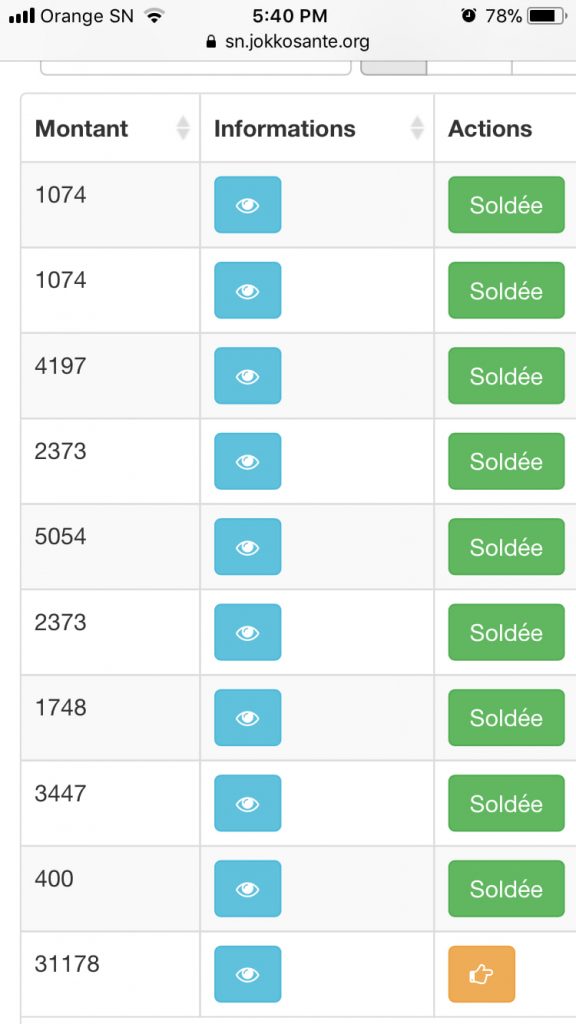 Not Just an Enterprise, But Also to Serve the Broader Society
However, JokkoSanté is not just capable of letting people conduct exchanges of drugs. It has also established sponsored plans for people who have no drugs to exchange for, enabling them to receive the medical resources matched to them.
Yacina Ba's child was only six months old, but was sent to the children hospital in the capital due to developing hand rashes. However, after spending 75 USD which was almost all the cash she had, her child might be forced to be discharged and would have no choice but to turn to poor quality drugs purchased on the market.
In response, JokkoSanté has collaborated with many large companies who sponsor and provide many free and safe drugs for local medical centers and pharmacies. The free treatment sponsored plan has reduced Yacina Ba's burden from worrying about drug safety.
Drug safety is a medical problem in many countries in Africa. According to an estimate from the American Society of Tropical Medicine and Hygiene in 2015, there are over 100,000 infants that died from taking poor quality drugs in the Southern Sahara region in Africa.
Due to a lack of specialists in Senegal, doctors often prescribed excessive drugs for the patients order to earn more fees. Given the lack of regulation, the excessive drugs will end up in the hands of counterfeit drug dealers from China and India, before eventually flowing into the market and the hands of ordinary people.
But now with JokkoSanté, the quality of drugs can be ensured on the one hand, and hospitals can conduct drug quality control on the other hand so people can consume the drugs safely. They will thoroughly examine the source and quality of drugs, and ensure that the drugs being transacted are safe for consumption.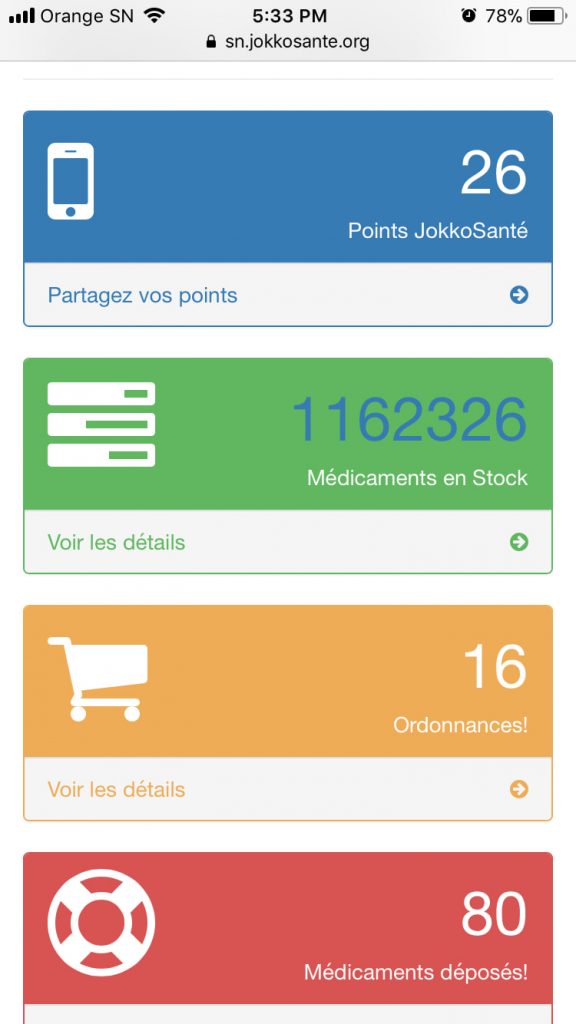 Sinking Roots or Expansion? Next Step of JokkoSanté
Despite the wonderful future and solutions for drugs drawn up by JokkoSanté, some obstacles are still encountered during implementation.
The infrastructure development of Africa is slow, which negatively impacts JokkoSanté which relies on the Internet to operate. People in rural areas do not necessarily have access to mobile networks, which is why JokkoSanté found it challenging to reach deep into rural areas with urgent needs.
But years of experience in telecommunication enabled founder Kane to design different ways of operation. Kane has enabled JokkoSanté to be used by members through messaging and the USSD keyboard shortcut menu. This allows members without access to mobile networks to verify the contents of transaction from official messages. This method is quite effective in areas with low Internet prevalence.
In recent years, Internet telecommunication infrastructure in Africa has become more developed, along with the widespread usage of smart phones. This is no doubt good news for JokkoSanté, as it enables the further advocation of their ideals and businesses into other countries in Africa.
As of 2017, they have accumulated over 1,500 users, which more than doubled to 3,700 users in the subsequent year.
JokkoSanté was launched in 2015. The same year, it was awarded the African Entrepreneurship Award and selected as the best project in the field of health and environmental protection at the World Summit for two consecutive years. In 2018, it was also appointed as the business platform for global contracts by the United Nations, to enhance the development of relationships between private departments.
It was not enough for Kane, despite the recognition and many awards, as well as abundant funds. He is expected to raise about 150,000 Euros, hoping to expand JokkoSanté's business to 15 countries in Western Africa by 2020.
However, the company's expansion would mean more employees and funds are required. Are there enough funds to support their expansion judging by JokkoSanté's current sources of profit? How to publicize the benefits of JokkoSanté and persuade more people to join the virtual pharmacy are the challenges that Kane and his partners will be facing in the future.
Social enterprise:
A business organization that solves social, environmental, and welfare issues using its business model. For instance, a social enterprise may create jobs for the underprivileged and offer products or services that are socially responsible or eco-friendly. Profit made by social enterprises are used primarily for re-investment to continue solving social or environmental issues. Social enterprises do not work towards achieving maximum benefits for their investors or business owners.